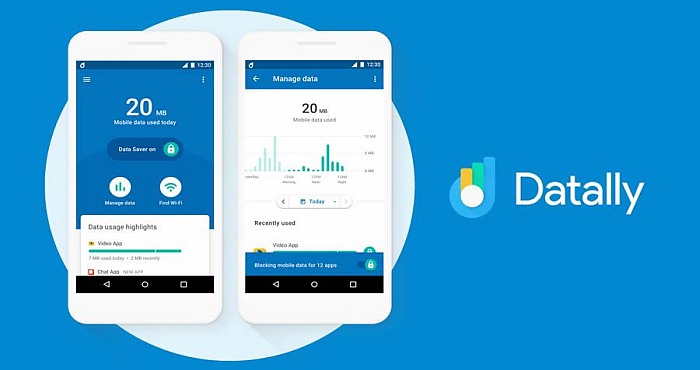 Whether you are aware of it or not, almost every single app on your smart phone is using some of your mobile data. Some of these apps use up most of your mobile data may be without you even noticing. There are two options solve this problem and try to save your mobile data as much as you can. You could either go into your phone's statistics to search thoroughly until you find out which apps are eating up your data and stop them, or you could just install Google's Datally.
This new app from Google is a data management tool that is made especially to find out how much data is necessary for your phone to stay connected and notifies you with the names of apps that are excessively using your mobile data beyond your preference, with an option to cut off their connectivity simply with a single tap.
Datally also has the option of showing you your usage of mobile data over a past day, week, or month. To calculate that usage it uses the number of your phone to learn how much data left for you according to the plan you are subscribed to as well as using VPN to manage allowed and restricted data.
The benefit of using such a tool to help you become aware of your mobile data usage is crucial. Once you get the chance to see with your own eyes how much is your mobile data usage per month, you'll be a better judge of how much streaming you really need to have on your daily morning commute for example. Datally can be configured to display a little bubble over the app that contains your data usage in a real-time fashion in addition to an easy option of cutting off access to apps you may choose to do so to.
In case you are using a carrier like T-mobile that offers a plan with an free unlimited sound streaming through Music Freedom and unlimited video streaming through Binge On, then you don't have to worry since Datally will ignore this streaming and it will not be counted as a part of your mobile data usage.
According to Google, Datally is supposed to be seeing how much data is going and out your phone, and it has been stated that the app is not aware of what is the data that is being transmitted into and out of your phone. Yet, and based on Google's previous incidents of secretly collecting data about users' locations without the users' consent, it is completely valid for us to be worried, is it not?